Its not the worlds biggest secret that we are busy working hard on a new record. This is why we have not been playing live as much as we have over the last few years. Our time away from the road has also given us a bit of time to work on our precious POP SEX LTD, if you dont know what this is, then your a dick. Its basically a database for all of our inspirations, achievements and passions. To bring you up to speed with what we have been up to here is a quick catch up.
We released a single by North East based artiste Ajimal, this was POPSEXLTD #101 and #101.5. The single sold out almost instantly as did the gig we put on March 19th, we held the event in the unusual surroundings of Newcastle's Literary & Philosophical Society (Lit & Phil) and it is the largest independent library outside London, housing over 150,000 books. Our very own Mick Ross produced the tracks and played live on the evening with Ajimal. Nadine Shah was also on the bill that night, and what a very civilized night it was.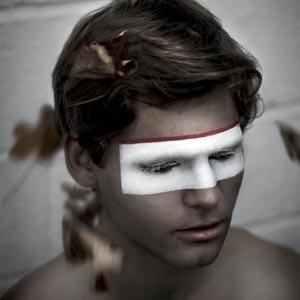 On May the 18th/19th we put The Futureheads on in one of the oldest buildings in Sunderland and sold them both evenings out. Over the two days, with support from Lucas Renney and The Lake Poets, 800 people filled out Sunderland Minster to the rafters. The Futureheads played incredible versions of their classic hits and their brand new album Rant in full with help from the Longbenton Community Choir. This was a really special event and if you were lucky enough to see it, you wont be forgetting it in a hurry.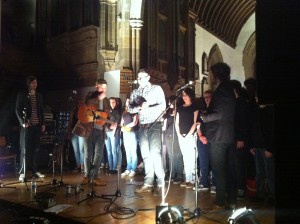 Which brings us up to our latest endeavor The Neat are a great band from Hull, we like them so much we have decided to put out their new single New Kids. Our Mick has been on producing duties again and it has already been spun on national radio as was Ajimal. you can listen to the single here.
We have put a lot of time and thought into the physical appearance of this release. When purchased it comes in a 7′ style package including CD of single, 2 badges, a postcard and some lovely artwork from Mez the bands singer. This is POPSEX#102 and can be bought here.
these are all individually put together and numbered by our Dave limited to 250 copies so dont be slow in getting one. Dave has also made arrangements for the release to be available in your area at the following nice shops
Rough Trade East/West
Hot Rats Sunderland
RPM Newcastle
Sound it Out Stockton
Spillers Cardiff
Piccadilly Records Manchester
Crash Leeds
Jumbo Leeds
Avalanche Edinburgh
Rounder Records Brighton
And other (strictly) Independent record shops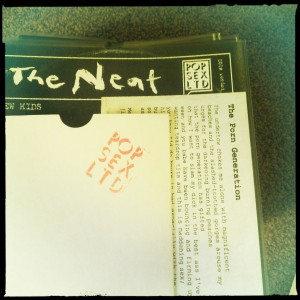 The single is officially released this Monday June 2nd
Right so I hope thats informed you as to what we have been doing with POP SEX LTD over the past couple of months, we have loads of ideas on the drawing board so expect more news soon, but in the meantime follow our progress at https://twitter.com/#!/popsexltd
Speak soon
Frankie x