Archive for March, 2010
2
So on Saturday we embark on our first UK headline tour all alone to sing our songs and sell our stuff……check the website in the middle for dates and and ticket links. WE CANT WAIT
Our new single TENDER//WANT YOU BACK is out on the 26th April 2010, we are only making 888 7″s so get your copy now at www.popsexltd.com
I made a little video for our new single check it out !!!
See ya soon
Frankie x
0
It goes without saying that the following events probably didn't happen.
I think it must have been roughly 3 in the morning. It was hard to tell or care as this phoenix, aflame and almost vibrating with ferocity had been threatening to swoop from the pelmet of the curtains for a good hour. For now it seems happy to threaten and vibrate. The sadist bitch knows exactly where it wants me. Unable to sleep and intrigued by the white fear brought on by this incredible space filled with this mind-bending concoction of mind rattling drugs forced upon me by a nomadic friend of mine.
It started when my phone rings and the nomad is at the other end. He tells me that his Bedouin frame will be passing through his home town for a day or say. And as Sweet Baboo played out the conversation I'm busy telling the Nomad that I'll be there. We agree that much hilarity will ensue. In fact we play our roles out so well that I swear for a second there we almost believed each others bullshit. This is why people who jog are so fucking smug. Their enthusiasm brings with it a mirage of the moral high ground. People like me could never see that. I see Day-Glo sub normal drones wearing out the pavement I need to get me places.
So I begin preening myself and assembling all the tools im going t need to see me through the night. If only id known how this dark rose would unfurl. I would have stayed at home, taken a few abusive messages on the chin but banked what little I have left of what imp told is sanity. And then im gone, allowing myself to be swallowed by the mist which dulls the street lights which map out the way to whichever arena we choose to fight in tonight.
The Nomad has just arrived as I turn the corner were the laundrette is, the one with the Vaux sign no-one appears to know is there. Anyone with a heart that knows of this place will realise how incredibly sad this is. The death of romance should never be this close to a laundrette surely. So he's back again and I swallow a little deeper than usual as I try to stop thinking about what I know im probably going to do this evening. I don't find the nausea completely unpleasant, I bought into this, born into it if you like. We exchange gifts and humorous attire as we smoke cigarettes outside the place we have met many times. We all look Arabian. It isn't particularly funny but I'll gladly sign up to any fraternity willing to have me.
We are joined by the Nomads father, Lairy Mary (male) and some flower child or other. Although this doesn't bode well it's certainly playing out the tune I expected. The glasses stack up as we shoot the shite, regaling the stories which raised a smile the last time and probably the time before that. The time we had the big fight. The time we fell over, with the bruises and the broken jaw and the time we did it all again. The stories are always rinsed before we repeat them on each other. Each anecdote thrown into the gutter like yesterdays confetti and the boxes are ticked. These cats are the most bohemian beaurocrats I can bring to mind…..then the paradigm changes……….along with the chemical make-up of my brain.
As the nomad makes plans to take our Bedouin troupe to somewhere a little more appropriate given our mind sets with a more acceptable attitude towards our ladsontour posturing and other assorted peacock lies. The conversation becomes the background gurglings heard in most episodes of Charlie Brown. The background noises become more of a symphony of muzac and my pupils begin to explore different areas of the room at an alarming rate. When my whorey mouth opens to deliver another quick witted manoeuvre the syllables are not as complete and as rounded as id like. My sanity begins to sag like a dish cloth that has seen better days. Then im outside. Then im presented with it. Then I have it. Then I regret……but im moving and im alive, im alive and im waking up with every footstep towards our next port of call. The last place I'll see before the fear drags me home.
My nose burns as my head begins to fizz with a familiar strum of regret. I'm a man of a certain age and this, an age when abandon should no longer be an option. My heart is thumping to a song which had played out years before hand.
Without thinking we despatch to Lairy Marys house, 4 strong and giggling like narcotic demons. I realise that to a man that we think we are working this reflex with a normality hat deserves little credence. Stroking the underbelly of a beast beginning to bite the hand that used to feed it.
Lairy Mary is on his back, burling cackles as he flounders like a fucking turtle. Of course as this evil shit takes hold the hilarity ensues and I just want to go home and confess everything to the one person that would not so much begin or even want to understand but to the one person who is capable of tolerating the beastly silliness of what I have become. I can't really remember how long we played out this scene. I do remember the Nomad grapping a fire extinguisher and this being a good enough excuse to leave I say my red faced and bloated goodbyes and bow out to the next chapter of this deplorable journey.
The evening has cleared as I am guided by the same dull streetlights that took me to hell. These sadistic lights now have the nerve to deliver me home.
Now I could describe all the awful awful things I saw that night courtesy of the Nomad and assorted henchman but William Burrows and Alasdair Crowley got their before me. They were lucky enough to have time on their sides.
These 6 or so hours will remain with me for as long as I live. My stereotype gland is telling me sign off with a line or two about this pivotal moment….an evening in which everything changed and of discovery. But this bullshit will never ring true for beyond that horrible 6 hours.
There is still nothing glamorous about making mistakes. I don't believe you learn too much from making them. But if nothing else I am a consistent with my contradictions. Inasmuch a there is an irony here. The 2 paradigms in which I function and exist. Lou Reed once said that "My week beats your year" but old Lou was always given to these periodical flights of bravado. I feel like my year has been beaten by this week. And I do believe I had an epiphany, a brilliant moment of contradictory sobriety. I feel grey and ill and I won't ever do this again.
At least that's what I mumble to my mother as I try to close my eyes at 7 in the morning.
Pearl
1
Yes hello pop fans, as the sun begins to make an appearance for the first time in 2010 we The Heartstrings have been busy bee's working on our debut album.
Its exciting times, were recording it ourselves in the North East, luckily Pete had a few old Mic's lying round his bedroom so were using them to capture the magic.
Ever wondered how to make a record ….well wonder no longer…..
So thats how you do it……try yourself and see what results you get. Im recording the whole process so expect the full video sometime near the release of the record.
In the middle of making that we played an amazing gig for radio 1 the other night. It was part of "In new music we trust" and it felt really special check it out Im crowd surfing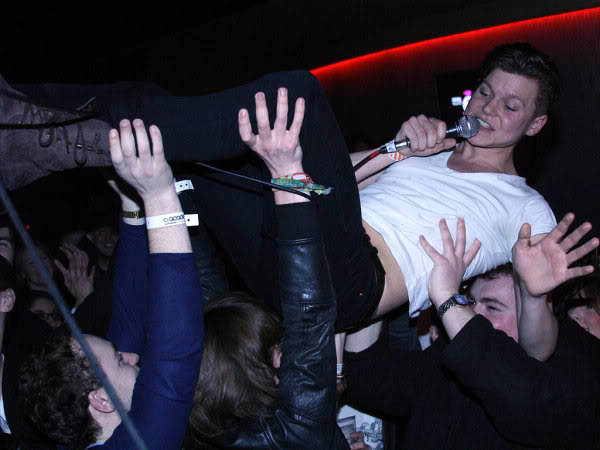 If you want to hear it go here…
http://www.bbc.co.uk/programmes/b00r2htr#synopsis
I got to DJ on Radio 1 after the gig, which was pretty special as i've always wanted to work in radio "i've got a degree in it ya'know"
anyway enjoy your hair and speak soon
Frankie x
1